COVID-19 Relief Seva
Covid-19 Service
With the divine blessings of Bhagawan Sri Sathya Sai Baba, we, Sri Sathya Sai Seva Organisation, Hindupur (Sathya Sai Seva Samithi) are actively serving Covid-19 affected people within the limits of Hindupur township. This page provides information on various Service activities that are being provided by us.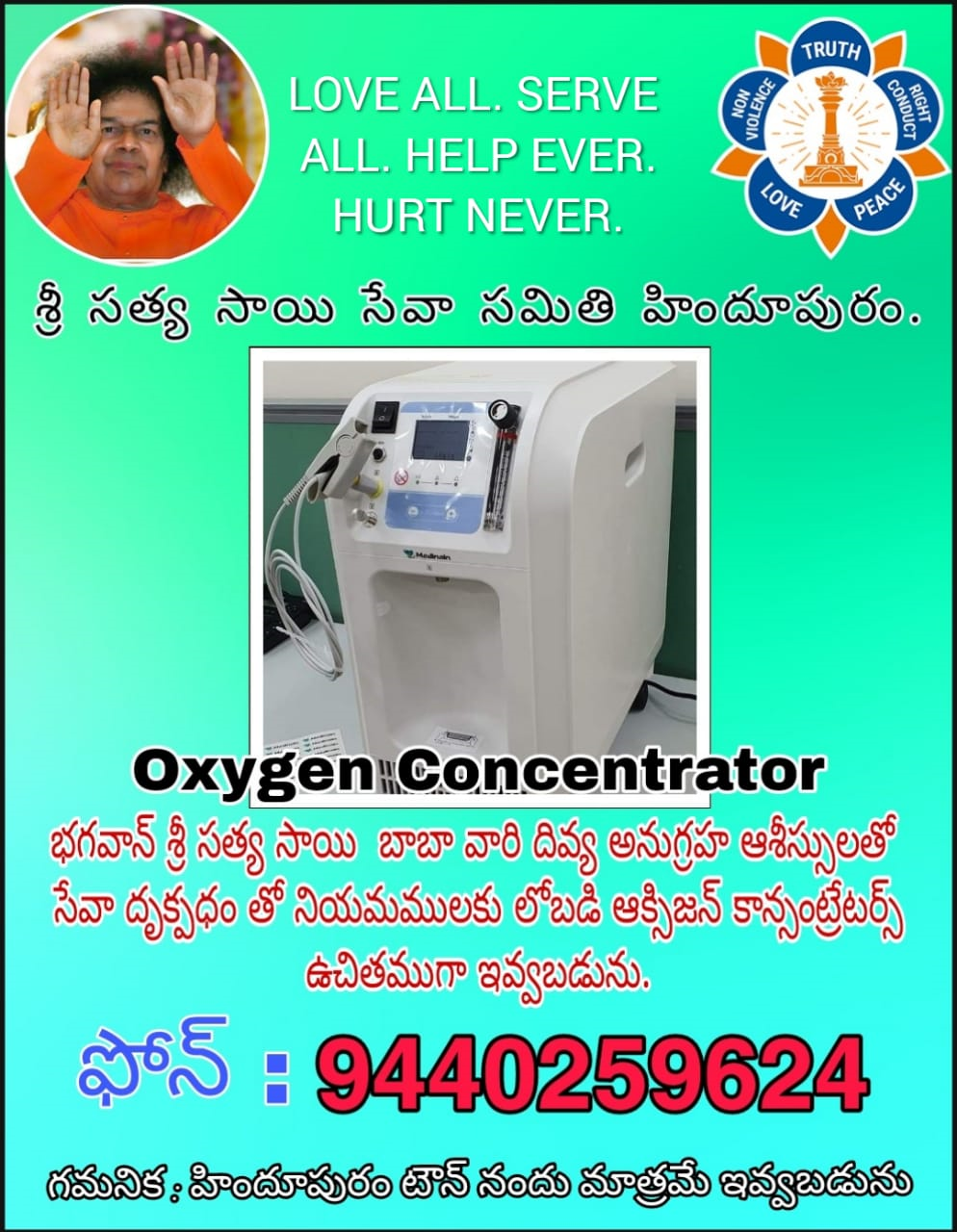 Oxygen Concentrator Seva
With the divine blessings of Bhagawan Sri Sathya Sai Baba, Sri Sathya Sai Seva Organization, Hindupur is providing free Oxygen Concentrators to serve the people in need.

Please contact M.R. Gopal (9440259624) to receive help

Note: This facility is right now available only within the township of Hindupur, Andhra Pradesh
Read More
Patient must bring doctor's presectiption for Oxygen concentrator along with a photocopy (Xerox) of patient's Adhaar card
You must let us know in advance on how many days the concentrator required
You must provide fully Returnable Deposit for Rs. 25,000 (Twenty five thousand only)
Please do not place any items on concentrator (like Coffee, Juice, medicines etc.)
It is your responsibility to transport the concentrator safely before and after the use
You will have to bear any damages that you cause to the concentrator
Concentrator weighs around 25 Kg. It would not be possible to carry it on a two-wheeler. Please make necessary arrangements to transport the concentrator.
The concentrator can be used only by the patient registered with us. You must not pass it on to anyone else without prior approval.
Concentrator is available only for the residents of Hindupur township. This facility is not available to the non-residents of Hindupur.
Covid-19 Food Relief Seva
"Engage yourselves in service activity. Consider social service as service to God. This is the best way to earn God's Love. Love all and serve all. Your entire life will be sanctified thereby." - Sathya Sai Baba

Sri Sathya Sai Seva Organisation has been very active in serving people affected due to Covid-19.

We have served 710 familes with Amrutha Kalashams to take care of their daily needs.
Read More
Each Amrutha Kalasham consists of the following items.
Toor Dal - 1 Kg
Ragi Flour - 1 Kg
Sugar - 1 Kg
Wheat Flour (Atta) - 1 Kg
Bombay Rava - 1 Kg
Salt - 1 Kg
Cooking Oil - 2 Ltr
Ground Nuts - 0.5 Kg
Channa - 0.5 Kg
Green Moong Dal - 0.5 Kg
Urad Dal - 0.25 Kg
Channa Dal - 0.25 Kg
Tamarind - 0.25 Kg
Bath Soaps - 2
Detergent Bars - 2
Coffee Powder - 100 Gm
Mustard Seeds - 100 Gm
Dry Red Chillies - 100 Gm
Turmeric Powder - 100 Gm
Mask Distribution Seva
We have distributed 1000 masks to the needy and are planning to distribute 400 more.

Please contact T. Madhusudhan Rao (7386950488) for more details.
Miscellaneous Service Activities
Below are few Service activities rendered between 26-Mar-2020 and 31-Aug-2020 during the period of Covid-19 pandemic.

Served juices and kheer to around 300 (150 in the morning + 150 in the afternoon) Police personnel on daily basis
Distributed Hemeopathic medicines to more than 18,500 people
Distributed 710 Amrutha Kalashams to the poor people
Distributed 2950 food packets to the people with no shelter
Distributed 41,686 rotis, 4707 water packets, 2380 biscuit packets, 6313 pickles to 1122 people migrating to different states like Bihar, Uttar Pradesh, Jharkhand, West Bengal, Orissa and Chattisgadh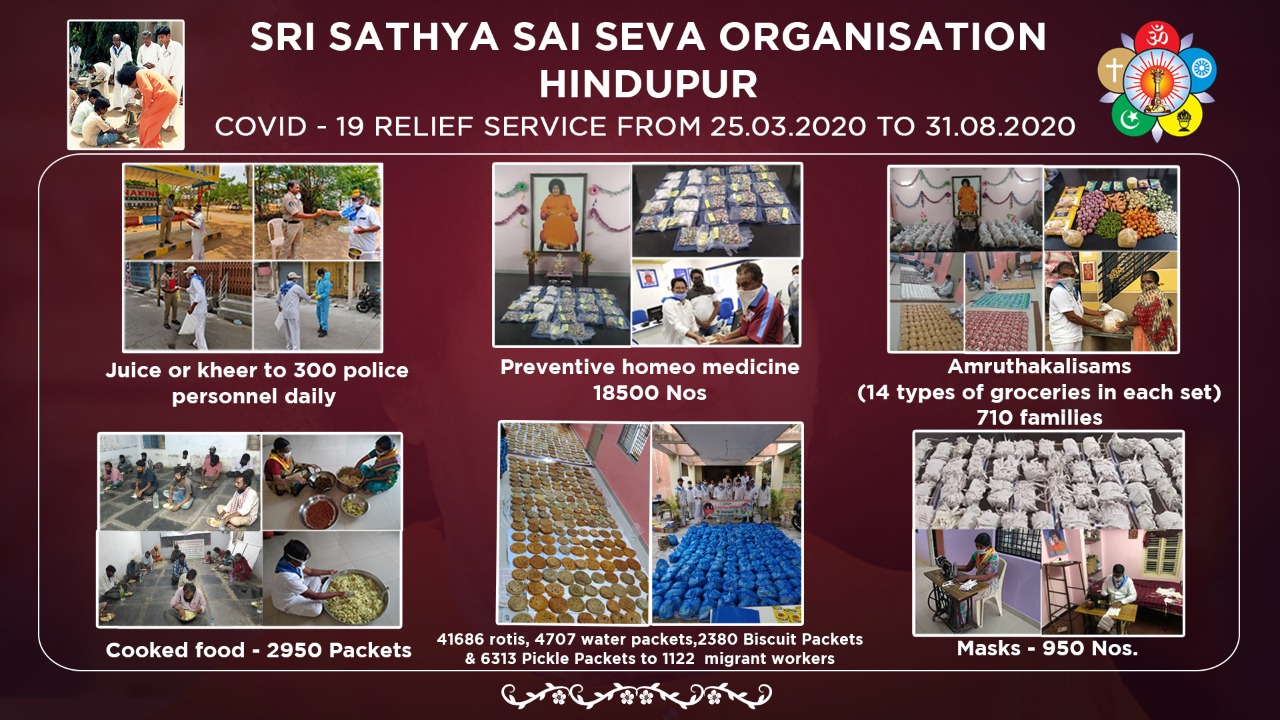 Would like to support us?
Please contact T. Madhusudhan Rao (7386950488) in case you are interested to participate in any of these Seva activities.